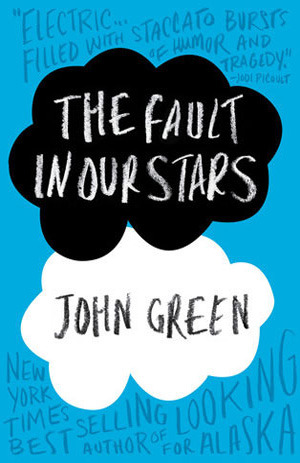 The Fault in Our Stars by John Green
Rating:
5 stars
Received:
bought
Genres & themes:
YA, contemporary, romance, humor, family, friendship, death, life, diseases, dreams.
BLURB:
Despite the tumor-shrinking medical miracle that has bought her a few years, Hazel has never been anything but terminal, her final chapter inscribed upon diagnosis. But when a gorgeous plot twist named Augustus Waters suddenly appears at Cancer Kid Support Group, Hazel's story is about to be completely rewritten.
REVIEW:
First of all, I didn't cry. I know many of you did, and I can understand why, I really can. But, the thing is… this book has a balanced atmosphere. It's both sad and full of life. During my reading, I concentrated on the joyful parts and the humour. Maybe that's why I didn't feel crushed by the 'cancer' part.

The number of times I laugh out loud or giggled are uncountable.

Of course, there were some times when I felt my eyes burn because what happens in this book is not fair. Then again, is life ALWAYS fair with any of us? Hint: no.

Hazel is such an honest main character. At first, I thought it was impossible she had cancer. Sometimes, I even forgot she had cancer! She accepts it and I began to accept it as well. I rarely read books with diseases or heavy subjects in fact, so loving this book wasn't in my pre-read expectations.

BUT, I DID.

OH, I DID.

Will I re-read this book?

YES, YES AND YES.

I'm not the queen of re-readings, I know a queen of re-reading and it's definitely not me. I'm way too excited about new books released or ones I'm dying to read but haven't to take the time re-reading books. In fact, I think I only re-read 12 books in my entire life. And that was when I was younger and didn't know about Goodreads, hehe.

I know though that, when I'm going to re-read The Fault in Our Stars, I'll appreciate it even more than I did now, and that I'll fall in love even harder with Augustus and feel an even greater connection to Hazel.

The originality of this book is beyond amazing. I kept thinking how did John Green manage to invent all of that? He's a fantastic author with an impressive writing style and choice of words. I'm so eager to read his other novels, in occurrence Looking for Alaska of which I heard only great things and that has a big amount of raving reviews.

The kind of family Hazel has is adorable and full of love. I felt so happy for her to be in such a comfortable and loving one. I rarely saw a similar family in real life but I'm sure it exists so, yes, this story was also a believable one. Even, the 'author' inside it felt real.

What I also enjoyed were the multiple settings and the perfect pacing. The story is not only happening during a short (or long) period of time which aloud me to really see every character's personality and the kind of relationship they have toward one another.

As a conclusion to this 100 180th review of The Fault in Our Stars on Goodreads, I recommend you this novel with all my heart. I hope you'll love it as much as I did and find it inspiring and beautiful as well.
What did you think of this book yourself? :)