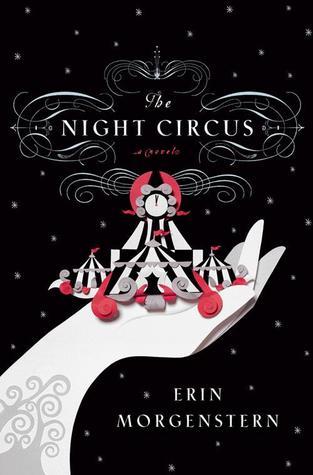 The Night Circus by Erin Morgenstern
Rating: 3.5 stars
Received: borrowed
Genres & themes: YA, magic, romance, competition, mystery.
BLURB:
The circus arrives without warning. No announcements precede it. It is simply there, when yesterday it was not. Within the black-and-white striped canvas tents is an utterly unique experience full of breathtaking amazements. It is called Le Cirque des Rêves, and it is only open at night.

But behind the scenes, a fierce competition is underway: a duel between two young magicians, Celia and Marco, who have been trained since childhood expressly for this purpose by their mercurial instructors. Unbeknownst to them both, this is a game in which only one can be left standing. Despite the high stakes, Celia and Marco soon tumble headfirst into love, setting off a domino effect of dangerous consequences, and leaving the lives of everyone, from the performers to the patrons, hanging in the balance.
REVIEW:
''A circus?'' says Lainie Burgess with a smile. ''How marvelous!''
''Like a carnival?'' Mr. Barris asks, sounding mildly confused.
''More than a carnival,'' Chandresh says. ''More than a circus, really, like no circus anyone has ever seen. Not a single large tent but a multitude of tents, each with a particular exhibition. No elephants or clowns. No, something more refined than that. Nothing commonplace. This will be different, this will be an utterly unique experience, a feast for the senses. [...]
This is quite an unique book and story. The cover is captivating, that is for sure. The story itself is very original and beautifully written. It started with an intriguing ambience, a magician, known as Prospero, discovering a daugther he never thought he had, who in fact has special abilities as himself. I would even say she is even more talented. The man in question decided to embark his daughter, Celia, in a long and mysterious competiton of which very few people know about. Her opponent will be chosen by one of Prospero's powerful acquaintances.
The reason I decided to read this popular novel is simple. I love competitions. As I said in my review of
Panic
, I love the feeling of excitement and being able to choose 'my' winner and hoping he/she will be the one who will succeed until the end. In this book, it was a bit disappointing because the competition itself is but isn't at the same time the main attraction. Not many people know about it, so it is mainly a secret the two participants are keeping. They're actually trying to understand themselves what it is actually about. The synopsis is misleading us to think that it will exciting and mysterious and maybe fun, but it isn't quite like that. It sure is mysterious but than mostly annoying because you want to learn why the two men started it and what happens and when but it is very vague.
The characters are interesting. A huge problem I had is that, at the beginning, I thought Celia was in fact Isobel all the time she was hanging with Marco. It changed my way of seeing those characters and I only discovered they were not after about half of the book. I would like to say it is my only fault but I can't because it truly was confusing. When Isobel first met Marco, she was shy and has a passion for magic, of course, but so was Celia. And they both had similar if not the same age. I'd like to warn you so you won't make the same mistake: Celia and Isobel are two different person.
My favorite character at the beginning was Celia because she was a bit of a rebel but Bailey fastly took her place. His admiration for Le Cirque des Rêves was adorable and interesting. I always wanted to know what would have this time when he goes to the circus. It mostly was through him that we witnessed shows and breathtaking illusions. It is impossible to not like his calmness and charming nature.
The romance wasn't rushed but it felt to me like it was a bit, yes, even if there was some leap of time before the characters grew fond on each other. Marco and Isobel were bonded to each other since a young age, so I guess I can understand it. I obviously didn't predict it because I thought Celia was Isobel so that she already met Marco before and was just afraid to tell him that. Well...that's not what happened of course. After all, at least it wasn't cheesy as I thought so it made it quite enjoyable.
Overall, I thought this was an interesting, well-written and especially different read with unique characters. It has an alternative POV and the chapters are actually back-and-forth in time ones. It didn't bother me because it made me always wonder what will the next chapter contain. I recommend
The Night Circus
to teenagers and adults.