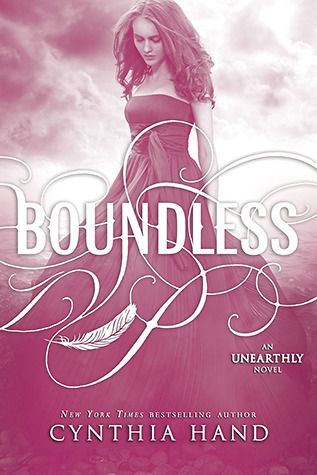 Review of
Boundless
by
Cynthia Hand
Rating: 4 stars
Received: borrowed
Genres & themes: YA, angels, romance, family, friendship, death.
BLURB:
The past few years have held more surprises than part-angel Clara Gardner could ever have anticipated. Yet from the dizzying highs of first love, to the agonizing low of losing someone close to her, the one thing she can no longer deny is that she was never meant to live a normal life.

Since discovering the special role she plays among the other angel-bloods, Clara has been determined to protect Tucker Avery from the evil that follows her . . . even if it means breaking both their hearts. Leaving town seems like the best option, so she's headed back to California - and so is Christian Prescott, the irresistible boy from the vision that started her on this journey in the first place.

As Clara makes her way in a world that is frighteningly new, she discovers that the fallen angel who attacked her is watching her every move. And he's not the only one. . . . With the battle against the Black Wings looming, Clara knows she must finally fulfill her destiny. But it won't come without sacrifices and betrayal.

In the riveting finale of the Unearthly series, Clara must decide her fate once and for all.
REVIEW:
What a conclusion to this Unearthly trilogy! Must say Cynthia Hand is clever, as I was more than impressed with the plot twists she created. There was always something in every one of her books that completely surprised me and that I was not expecting. Why it is such a great thing is that, in YA series, it can be hard sometimes to not predict the events and endings since a lot has been done already. Angels are actually a very popular subject that many authors already exploited. The fact that the author succeeded to stand out means that, not only does she have talent, but she also put some visible time and effort in this final book. I was not disappointed.
I'd suggest for you to read the novella named Radiant before reading Boundless and after reading Hallowed because there are many references to it. I haven't in fact read it myself but wished I did. Everything would have been clearer and, when I was surprised to discover a new angel character, I shouldn't have since he technically is presented in that novella with an alternative point of view of Clara and Angela.
The Unearthly series is a GEM in its category. If you haven't started it already, get to it soon, I politely say.
Clara is such an endearing character. She's the kind of main character that you can truly connect with and maybe even imagine yourself at her place by moments. It's even easier to do so since this series is narrated in a first person point of view. Sure, she can be sarcastic, impulsive, careless and reckless but that's just human behaviour. No one is perfect. Overall, I think you'll like her and want to now more about her. Personally, I would have loved to have her as part in my life, maybe as a friend.
There is still a love triangle in Boundless as in the other books. It's still blurred but things are surely different. Clara feels the pressure to choose Christian since it is part of her mission when she, herself, actually doesn't know if he IS her soul mate and the one she's supposed to be with. The only thing she knows is that she still cares for Tucker (which we will still se in this book) but she can't be with him in order to keep him save. Boy I was eager to know who would conquer her heart by the end of the story.
A problem I had is with Angela. You all know how bossy and how very self-confident she his. Well…I wished to slap her at least like…during my whole reading. Ugh, Angela, could you just stop thinking and listen to someone else for once? Unwanted things happened to you and maybe, maybe, if you had listened to Clara, at least, it would/could have been better. Angela and Clara are 'friends' but, to me, it's like the only reason they are close is because of the whole angel situation which keeps bringing them together. Not a true friendship. Clara is caring but Angela is too independent also to fully let Clara in her life and open up.
I loved the writing and the atmosphere, a nice one, a good contrast since a lot of events are happening in Boundless and they can get overwhelming. It's fast-paced and I, without lying, always wanted to know what was going to happen and how. The setting is also interesting since it takes mostly place on the Stanford University grounds. It was fun to meet new characters which brought a breath of fresh air in this book. Overall, it's a must read and a series to not only pass by but to actually read. I believe it enjoyable for adults also since it is a charming, entertaining and, yes, also sad story.