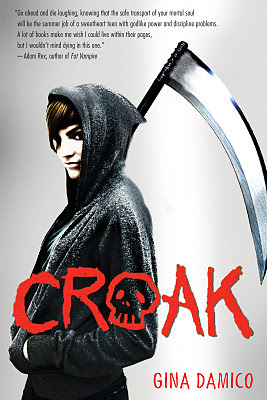 Croak by Gina Damico
Rating: 2 stars
Received: borrowed
Genres & themes: YA, death, friendship, urban fantasy, mystery.
SYNOPSIS:
Fed up with her wild behavior, sixteen-year-old Lex's parents ship her off to upstate New York to live with her Uncle Mort for the summer, hoping that a few months of dirty farm work will whip her back into shape.

But Uncle Mort's true occupation is much dirtier than shoveling manure. He's a Grim Reaper. And he's going to teach Lex the family business.

She quickly assimilates into the peculiar world of Croak, a town populated by reapers who deliver souls from this life to the next. But Lex can't stop her desire for justice - or is it vengeance? - whenever she encounters a murder victim, craving to stop the attackers before they can strike again.

Will she ditch Croak and go rogue with her reaper skills?
REVIEW:
I thought this book was so boring that, for the first time in my entire life, I feel asleep while reading a book. I never slept in class or in a plane but succeeded to fall asleep while reading Croak. There are first times for everything, right? Still, I feel pretty lazy in a way and somehow…surprised. Guess this book can be surprising in a certain way.
I had multiple problems with it. First, I didn't dislike the principal characters but they weren't how I thought they would be. Lex is supposed to be wild and all but I didn't feel it. I mean, she says some not very nice things to people but we can see, from the beginning of the story, that she has a heart and that she's not that bad. She cares about not hurting her sister and putting in danger her new friends, uncle and the community in general. And, of course, she changes throughout the entire story which isn't bad itself but there wasn't that much to change apart from her attitude and maybe some other small things. I had in mind that she was going to be similar to Meda from Cracked.
Driggs didn't impress me. He's one of the principal characters but, to be honest, I wouldn't mind him not being one. I have no connection or any normal positive feelings to have for a masculine character towards him. Now what really confused me is the big amount of secondary characters. It reminded me of the book

Nightshade. The problem is that the author presents them when we first meet those characters but then, if I forget who one of those

really are and what purpose that character has, I'm done. I may never know her/his 'title' again, if I can't deduct by myself and what connection she/him has with the others.
The romance…was not very present. There is this kind of love/hate relationship and, even if I usually love those, this one was the usual kind:
Girl meets boy.
Boy wants nothing to do with girl.
Girl wants to
'kill'

boy.
Girl and boy partner for 'work.'
Girl and boy learn to know each other.
And you know the rest; girl and boy begin to like one another. It wasn't exciting because, as I said earlier, Driggs is too immature for his age and he didn't quite have a 'charm' or fun sense of humour that made me like him or 'fall for him.' One character I enjoyed reading about though is Uncle Mort because he's fun and I would love to meet him in real life to see how he truly looks like and, maybe, be charmed by his personality.
The writing wasn't bad, pleasant enough actually so that's why I can't bring myself to give it only one star. I remember reading a book with a story different but with a similar subject and that's the the Madison Avery Trilogy by Kim Harrion and, even if that story is slow-paced with long chapters, I appreciated the characters and the story more. It was pretty original in fact. So, if you want to read this kind of story, I would recommend Kim Harrison's trilogy for YA instead of this Croak one.